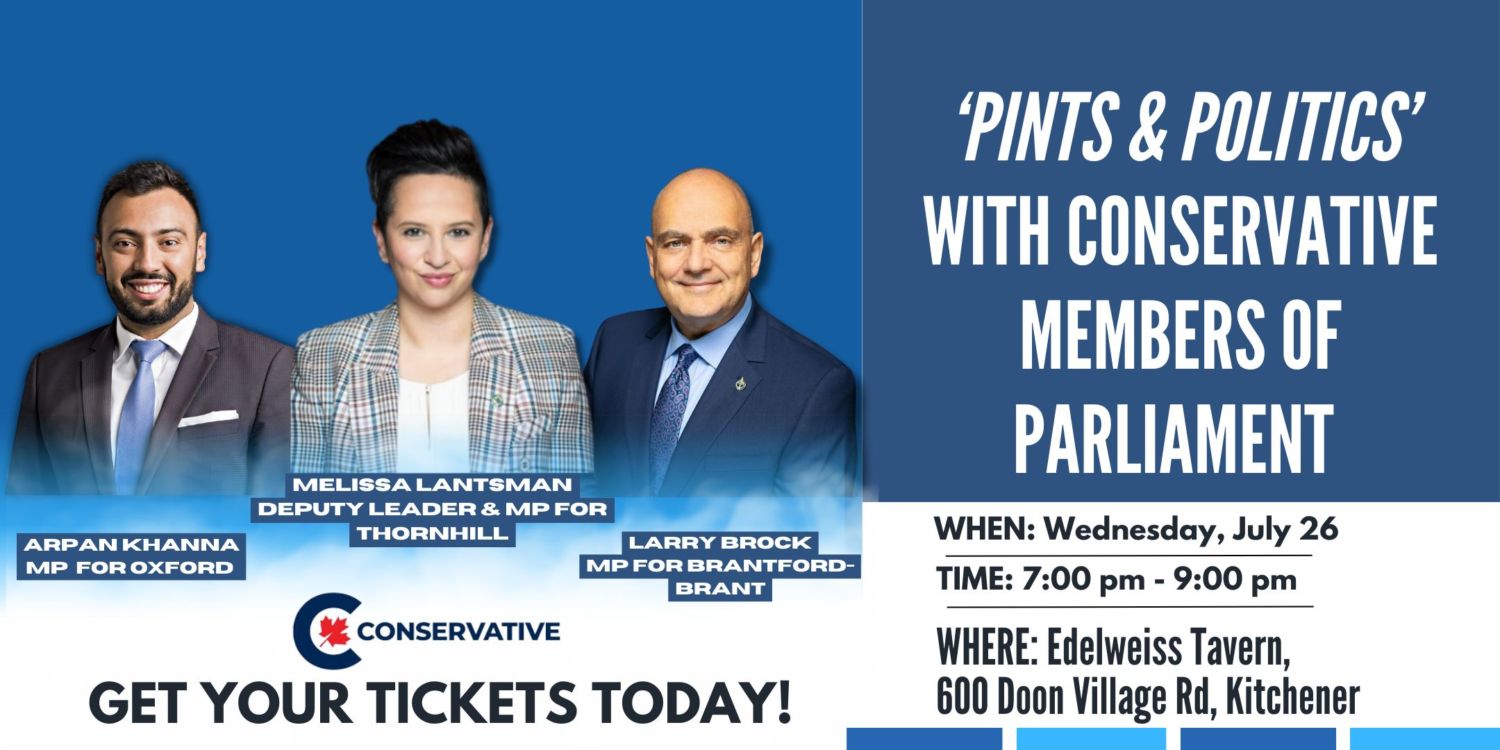 Join Conservatives from across Waterloo Region for Pints and Politics and get your tickets today to hear Deputy Leader and MP for Thornhill Melissa Lantsman and MP for Brantford – Brant Larry Brock as they discuss the state of our country, and how a Conservative government lead by Pierre Poilievre will bring back prosperity and hope to working families. (Ticket includes a free drink and a portion of your ticket is eligible as a tax donation). UPDATE: Additionally, special guest and newly elected MP for Oxford Arpan Khanna will be joining us as well!
Guest Biographies
Melissa Lantsman is a Canadian public relations consultant and politician. She was born and raised in Thornhill by immigrant parents who came to Canada from the Former Soviet Union. She previously worked as a communications advisor to several cabinet members. Melissa is the Member of Parliament for Thornhill, elected in the 2021 Canadian federal election. She was appointed shadow minister of transport after her successful 2021 election. Additionally, Melissa was elected vice-chair of the Standing Committee on Transportation and Infrastructure. She currently serves on the caucus leadership team and is head of outreach.
MP Larry Brock was first elected to the House of Commons on September 20, 2021, as the Member of Parliament for Brantford-Brant and currently serves as the Associate Shadow Minister for Indigenous Services. Additionally, Larry has a Bachelor's degree from the University of Waterloo and a law degree from the University of Calgary. Before being elected, he was the Assistant Crown Attorney for Brant. A lifelong resident of Brant, Larry has demonstrated strong leadership and commitment to family, community and public service having served as Chair of the board of the Crossing All Bridges Learning Centre.
MP Arpan Khanna is a lawyer and a small business owner. His volunteer experience includes helping raise funds and awareness for many local organizations, food banks, and charities including Global Medic and the True Patriot Love Foundation. He played an integral role during Pierre Poilievre's leadership campaign as his Ontario Campaign Co-Chair. More recently, he was appointed as the Conservative Party's National Outreach Chair. He's a licensed firearms owner and enjoys recreational sport shooting at the local range.